Newbattle Community Sports Hub Membership Card
Newbattle Community Sports Hub has launched a Hub Membership Card for all school children in the Newbattle Hub area.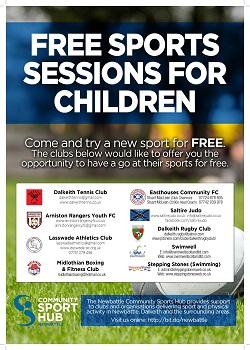 The Newbattle Community Sports Hub has launched a Hub Membership Card that entitles them to free sports sessions.
Theses card are being distributed through schools and Active Schools over the next few weeks. All children, both primary and secondary school aged, in the Hub area are entitled to a Membership Card.
This area includes Dalkeith and Newbattle School clusters, including the associated primary schools.
These Membership Cards provides the opportunity for children to try nine different clubs for free.
Each club is offering these sessions to enable children to try different sports, to experience different clubs and learn new skills from each club.
All they have to do is contact the club to find out when sessions are running, which session would be best for them and then just attend.
Each of the clubs contact details are on the cards or available below.
Dalkeith Tennis Club
https://clubspark.lta.org.uk/DalkeithLawnTennisClub
Arniston Rangers Youth Football Club
http://www.arnistonrangersyfc.co.uk/
Lasswade Athletics Club
Saltire Judo
facebook.com/saltirejudo
Easthouses Community Football Club
Stuart MacLean (Club Chairman) 07724878805
Stuart McLean (2006s Head Coach) 07742039978
Midlothian Boxing and Fitness Club
midlothianboxing@hotmail.co.uk
Dalkeith Rugby Club
http://www.pitchero.com/clubs/dalkeithrugbyclub/
Swimwell
E: info@swimwellscotlandltd.com
Web: www.swimwellscotlandltd.com
Stepping Stones (Swimming)
email: admin@steppingstonesweb.co.uk
web: www.steppingstonesweb.co.uk
Newbattle Community Sport Hub provides support to clubs and organisations delivering sport and physical activityin Newbattle, Dalkeith and the surrounding areas.