Active Schools - Get Active, Stay Active
Getting More Children More Active More Often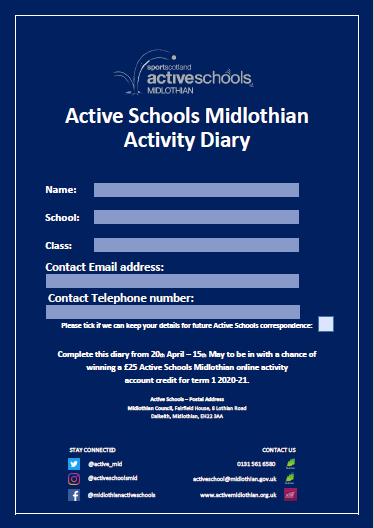 The Active Schools Get Active, Stay Active challenge
Active Schools Midlothian are looking to keep you active during this period of lockdown.
Why not get creative and find new ways to stay active at home. Remember you are also allowed to head out for one piece of exercise per day so why don't you take on the Active Schools challenge to get that heart rate up.
The Active Schools Get Active, Stay Active challenge has been designed to help you find ways to stay active over the next couple of weeks. Get started today!
Stay tuned to our social media to get some inspiration from local sports clubs and coaches. Why not set a new challenge and post it to one of our pages so we can share your great ideas with others!
We are all in this together, so the more experiences we share the more we will all get out of it.
If you are on Twitter you can also tag us @active_mid and include the hashtag #KindnessMidlothian to make sure it reaches us.
There are two ways to get involved in the challenge:
1) Complete our online pack which can be downloaded, updated and emailed back to Active Schools Midlothian.
2) Download and complate with a pen & paper, these entries can be posted directly back to the Active Schools team.
If you have any questions, please feel free to get in touch with the Active Schools team on:
ActiveSchools@midlothian.gov.uk
Full details and downloads can be found below: