Midlothian Active Choices
Midlothian health programme in partnership with NHS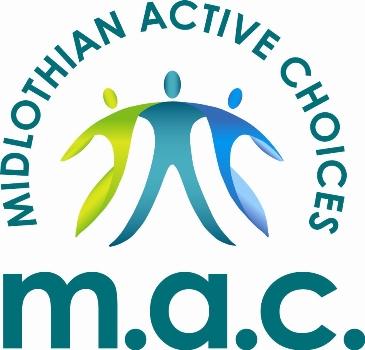 Midlothian Active Choices (MAC) is a physical activity referral service for adults in Midlothian who are currently suffering from mild/moderate mental health conditions, weight management problems, or long term or chronic illnesses.
The service is an NHS funded partnership project between the East & Midlothian Community Health Partnership and Midlothian Council, and is based on the objectives of the National Physical Activity Strategy 'Let's Make Scotland More Active' and the Midlothian Joint Health Improvement Plan.
How does it work?
Access to the programme is by referral from your GP or any other health practitioner, It is not a self referral programme. Once you have been referred you will be contacted by the coordinator to arrange an initial 1:1 consultation.
In addition to the client support which involves setting goals and developing a programme, the client is provided with a MAC card which entitles them to reduced cost access to Midlothian Leisure facilities for the cost of £2.30 per gym session/class/swim.
Further support and reduced costs are provided for up to a year after the initial 12 weeks to encourage the client to continue with their physical activity.
Regular MAC Group meetings are held in different locations throughout Midlothian, providing service users with a chance to chat to others who are experiencing similar health problems and to engage in different activities.
The meetings have resulted in a new programme where some of the service users buddy those who are less confident, taking part in activities together, from attending classes or visiting the gym, to a walk together in the local area.
'You are encouraged to get active but not in a pushy way, you make the choices but are supported'
The project has been running for over five years now and has received nearly 3000 referrals.
'I am a much happier, positive & fitter person'
For more information on Midlothian Active Choices contact:
M.A.C. coordinator
Midlothian House
Buccleuch Street
Dalkeith
EH22 1DN