Boost for Girls Rugby
Local players take field against city rivals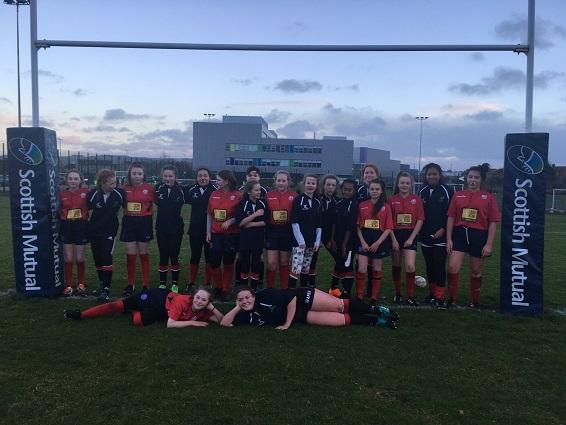 Girls rugby across Midlothian this season has received another boost with assistant development officer Amy Sanderson coordinating the Girls programme on a full time basis.
This has seen all 3 community clubs join together to offer a joint training session for all Midlothian players alongside their club specific sessions. Amy explains;
"This is great opportunity to move the girls game forward in Midlothian by ensuring we can create consistent opportunities for secondary age girls to play competitive fixtures at their own age group. No one wants to train for trainings sake so games are a key part to growing our sport."
With this in mind, Friday 7th December 2018 saw 12 1st year pupils took the field for their first fixture against a strong and slightly more experienced Castle brae High School. After a nervy start in cold conditions a big hit from the Midlothian squad seemed to 'break the ice' for what turned to be a very competitive fixture with superb link play and teamwork in a fascinating, end to end game of rugby. Amy added;
"I'm really pleased with how today has gone and how the girls and 3 clubs have pulled together to make today such a great advert for the girls game. We hope to have a further 4 to 6 games before the playing window closes and hopefully this will be the start of a strong future for girls rugby in across the authority."
For more information on girls rugby please contact Amy.Sanderson@midlothian.org.uk