The Active Schools Team adapts to the challenge
When the 'national lockdown' came into force in March 2020, the two main elements of Active Schools as we know it closed down: schools and sport.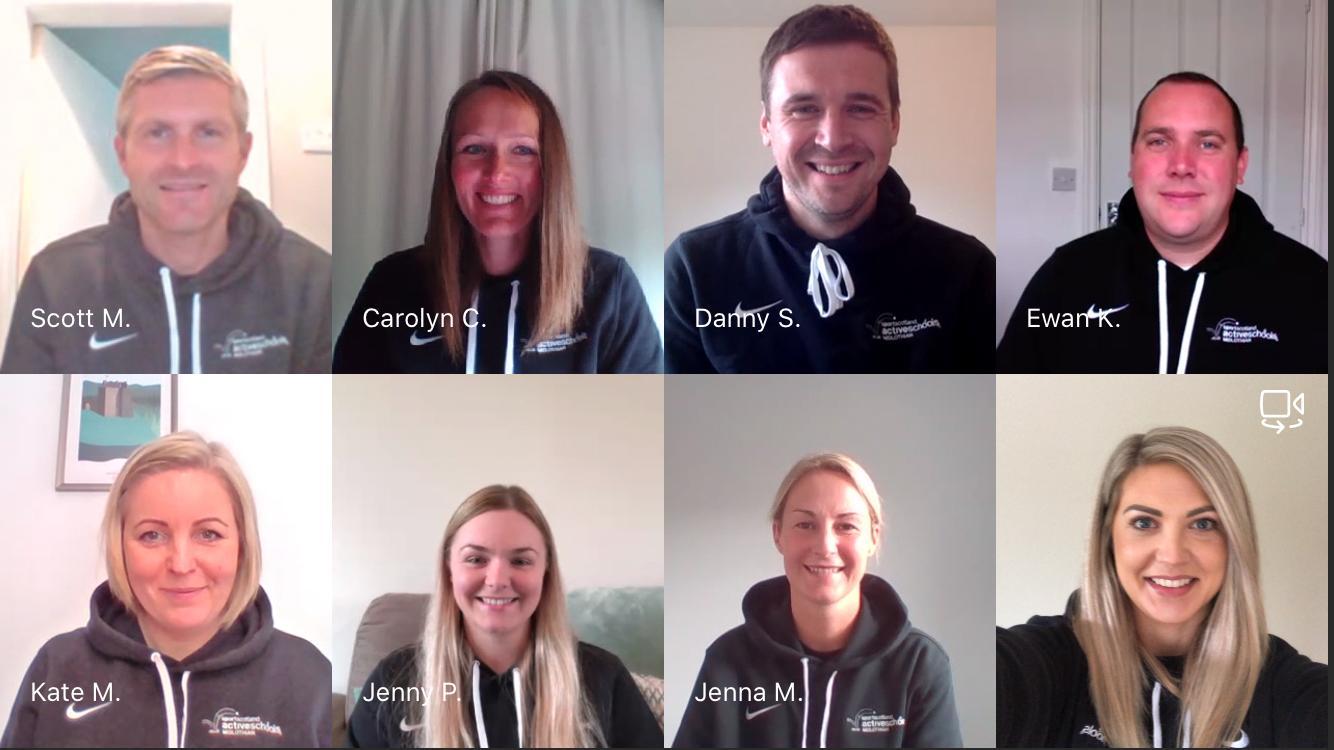 Therefore, the Active Schools team were encouraged to support an emergency request to adopt alternative roles in key services within Midlothian Council. Between the months of March and August, Active Schools staff, and also some of the coaches that work for Active Schools, fast-tracked a variety of specific training relative to their new redeployed roles, in order to support essential services in the Midlothian community - during what was an unprecedented time. The new roles included: Contact Centre Switchboard Operatives, Doctors Surgery Reception Staff, Care Homes Care Staff and Community Care roles.
At the end of June, just prior to the what would have been the end of the 2019/20 school summer term, Active Schools and the Sport & Leisure team supported in the planning and delivery of the 'Summer Activity Hub' Programme, allowing a number of the team to return to their Active Schools remit. The Summer Hubs took place in 4 different locations across Midlothian for 6 weeks in order to continue to provide critical keyworker child care, as a follow on to the School Hubs initially set up in March. Active Schools were delighted to be part of this essential service taking on Hub Lead roles and working with a number of key partners to deliver a safe & fun programme of activity.
During the operation of the 4 Summer Activity Hubs, 4534 children from 440 keyworker and vulnerable families attended. In total, a staggering 4231 children crossed the door and were involved in activities.
In addition to redeployment, the team also endeavoured to continue the fundamental ethos of Active Schools by promoting opportunities for young people (and their families!) to get active through a number of online and virtual challenges, using #kindnessmidlothian:
AS Activity Diary
AS Bingo
Map Your Miles May
Workout Wednesday
We also supported the Midlothian Young People's Sport Panel, consisting of 10 pupils across the Midlothian High schools, to continue to connect both with each other and also with other Midlothian young people through social media. The pupils and Active Schools staff met regularly over zoom, to work on social media campaigns promoting the importance of keeping active through the virtual challenges mentioned above and also the National SAMH Walk & Talk challenge supported in May.
The Team have now all returned to their Active Schools remit and are looking forward to providing more opportunities for our Midlothian young people to get active and back into sport safely. We have been working with Midlothian Council Primary Schools Group Manager, individual schools, Sportscotland and national governing bodies of sport to ensure a safe return to sport for our coaches and young people.
As a team, we are still working from home, however we meet regularly via Microsoft Teams to plan the return of our service with a flexible approach. All activities and initiatives must now be tailored to suit the needs and guidance of each individual school, which is extremely challenging but also very necessary. We are currently putting in place:
a phased extra-curricular programme
a new way of working for our Young Ambassadors & YPSP, sports councils & leadership programmes
providing support for schools with their Active Travel plans
We are also working closely with our clubs, coaches & volunteers to provide Covid-Officer Training (compiled by Sportscotand in conjunction with the SRU) and putting together other criteria to ensure staff are fully trained on all new procedures.
The Active Schools Team are committed to getting the children of Midlothian back to activity within the school setting as soon as is safe to do so. Our Team and several of our coaches have shown a great strength of character, adaptability and compassion throughout this exceptional period and are looking forward to delivering Active Schools' main objective of 'getting more Midlothian children, more active, more often'.