Proposed cuts to Active Schools
Active Schools is one of the proposed cuts by Midlothian Council. This means Active Schools would be deleted in its entirety, the decision is being made on 12th February.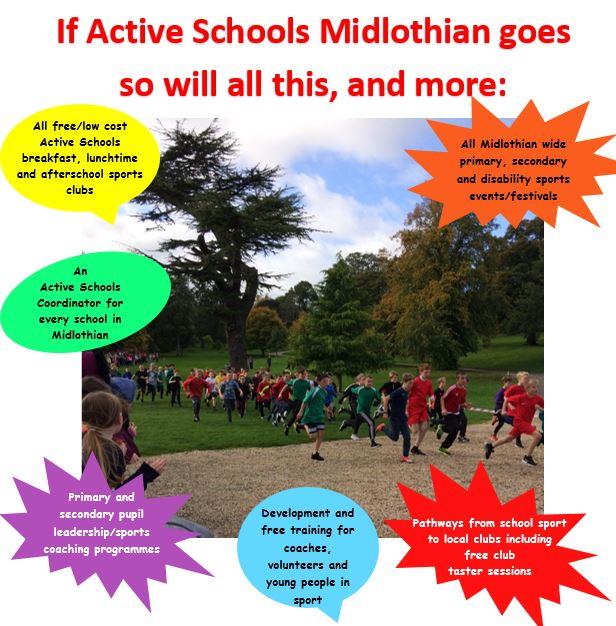 Active Schools is run in partnership with sportscotland: 75% of the funding comes from sportscotland, and Midlothian Council contributes 25%.
The services from Active Schools that will no longer be provided include:
All low cost/free and accessible extra curricular sports clubs in schools and local community
All Midlothian wide primary, secondary and disability sports events/festivals
Provision of an Active Schools Coordinator for every school in Midlothian
Pupil leadership programmes across primary and secondary
Pathways from school sport to local clubs, including free club taster sessions
Development and free training for coaches, volunteers and young people in sport
If these are all cut, the impact will effect:
Health and future of Midlothian young people
Mental health and wellbeing
Attainment and life skills
Local ASN/Disability opportunities
Range of free/low cost sporting opportunities
Social interaction and enjoyment
Opportunity to try a wide range of activities and sports
Equality – Midlothian schoolchildren will no longer have the same opportunities as those in other local authorities
We would welcome your support in our fight to continue our services by contacting your local Councillor raising your concerns:
Bonnyrigg
Dianne.Alexander@midlothian.gov.uk
Janet.Lay-Douglas@midlothian.gov.uk
derek.milligan@midlothian.gov.uk
Dalkeith
Colin.Cassidy@midlothian.gov.uk
Stephen.Curran@midlothian.gov.uk
margot.russell@midlothian.gov.uk
Midlothian East
Kenneth.Baird@midlothian.gov.uk
John.Hackett@midlothian.gov.uk
Peter.Smaill@midlothian.gov.uk
Midlothian South
catherine.johnstone@midlothian.gov.uk
jim.muirhead@midlothian.gov.uk
Kieran.Munro@midlothian.gov.uk
Midlothian West
russell.imrie@midlothian.gov.uk
Pauline.Winchester@midlothian.gov.uk
Penicuik
Andrew.Hardie@midlothian.gov.uk
Debbi.McCall@midlothian.gov.uk
Thank you in advance for your support.
If you have any questions please don't hesitate to get in contact with us: ActiveSchools@midlothian.gov.uk