Midlothian Football Clubs Receive National Recognition
4 Midlothian clubs received national recognition for the outstanding work they are doing in their local communities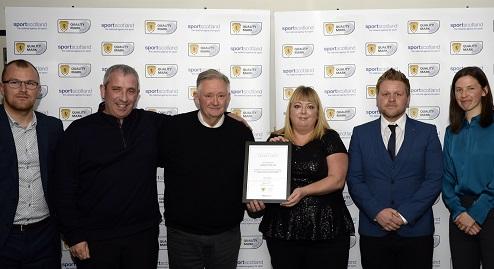 Last Wednesday evening (5th December 2018) saw the annual South East Region Quality Mark Awards held at Easter Road, home of Hibernian Football Club.
On the night, 4 Midlothian clubs received national recognition for the outstanding work they are doing in their local communities. The Scottish FA Quality Mark Scheme is a national initiative designed to enhance a clubs overall governance and highlight best practice, ensuring a club is performing to the highest possible standards. The initiative has four strands; Standard, Development, Community & Legacy. This year, St. Bernards BC and Penicuik Athletic received their Development Award re-accreditation while at Legacy level we saw Penicuik Athletic Youth Football Club be re-accredited with their award. It was a special evening for Dalkeith Thistle Community Football Club, who after hard work and long hours, have finally been awarded their Legacy Award for the outstanding work they are producing in their local community.
Football Development Officer, Paul Greig said," It is absolutely brilliant to see 4 of Midlothian's clubs receive recognition for their continued hard work and commitment to producing the highest possible standards for their local communities. Every club has dedicated volunteers working some incredible hours to ensure their club is thriving and creating great opportunities. without these volunteers the game would not be where it is today and these unsung heroes deserve this recognition. To be honest, I wish there was even more we could do for them. This evening and receiving these awards is just a small token to say thank you for all that you do. The game, your local community and everyone associated to football is extremely grateful for all that you do."
To find out more about the Scottish FA Quality Mark scheme visit: SFA Quality Mark
Our Football Development department are actively working across the region to support the game as best we can. We currently run various programmes from Participation Centres for 3-12yr old boys and girls, Performance Centres for 10-14year olds, Holiday Programmes, Coach Education, Club Support Programmes, Quality Mark, Coach Mentoring, Club Development to Walking Football for ages 50+ just to name a few.
If you wish to make contact in relation to football in your area please contact Paul Greig, Football Development Officer at paul.greig@midlothian.gov.uk