Active Schools Swimming Gala 2017
Active Schools Primary Swimming Gala 2017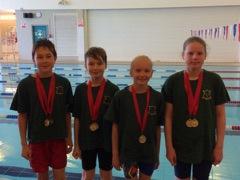 The 2017 Active Schools Swimming Gala was a huge success and a great day was had by all. The 7 Midlothian schools that entered the event were Lasswade PS, Rosewell PS, Woodburn PS, Loanhead PS, Cornbank PS, Kings Park PS, Mauricewood PS.
The response from the schools was fantastic and created a real buzz and atmosphere on poolside. This year was the first year we were able to include the school rely event which consisted of 2 boys and 2 girls from each of the schools. The team rely was won by Kings Park PS this year. The atmosphere poolside was amazing from the start to the finish with each of the schools cheering their classmates and friends.
Special thanks are extended to Midlothian Swimming Club who supported the event with officials looking after each of the races - http://midlothianswimmingclub.co.uk/
Swimmers from P6 & P7 took part in the event, and there was an Awards Ceremony for all the winners.
Well done to all involved, Congratulations
The Active Schools Team