ACTIVE SCHOOLS OCTOBER UPDATE
We're delighted to have Active Schools back up and running in Midlothian!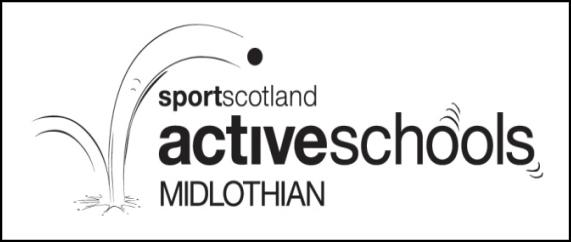 Dear Parent/Carer,
We're delighted to have Active Schools back up and running in Midlothian!
We've introduced some changes at this time to ensure a safe but fun return to sport for our Midlothian pupils, and we wish to keep parents/carers up to date on how Active Schools is being delivered.
We have been working closely with coaches, schools and sporting governance to ensure extracurricular sport can return in the safest possible manner and have the following updates:
School clubs
We are currently running a reduced programme of 1 or 2 clubs in some primary schools throughout Midlothian. These are dependent on many factors due to current Covid guidelines and restrictions, for example the clubs may only be offered to one class at a time. Please check your school's communications for information on any clubs running there.
Community clubs
In addition to these clubs, we are delighted to offer a more varied and expanded community clubs programme. These clubs are based in Midlothian leisure centres and other local venues.
All coaches will be following COVID-19 guidelines/procedures and we are working closely with all our coaches, community sports clubs and leisure centre staff to ensure a safe and fun environment for pupils to enjoy their return to Active Schools sessions.
Virtual Sports Events
The Active Schools Events programme has gone virtual!
We are offering primary schools the option to participate in various Virtual Challenge Events based around specific sports, for example Athletics, Basketball. Please keep an eye on your school's social media profiles and our Twitter and Facebook for the latest on these fun competition opportunities!
Contact us
The Active Schools team continues to work from home at the moment. The best way to get in touch with us is by email: activeschools@midlothian.gov.uk
For all our latest updates please follow us on Facebook and Twitter:
Facebook: @MidlothianActiveSchools
Twitter: @Active_Mid
We're delighted to be back offering Midlothian pupils sport opportunities and the chance to stay active! We'd like to thank you all for your continued support of Active Schools at this time.
Many thanks,
The Active Schools Team