ACTIVE SCHOOLS & BONNYRIGG ROSE FOOTBALL FESTIVAL
Volunteer led football sessions with 15 school teams taking part in end of term inter-school festival!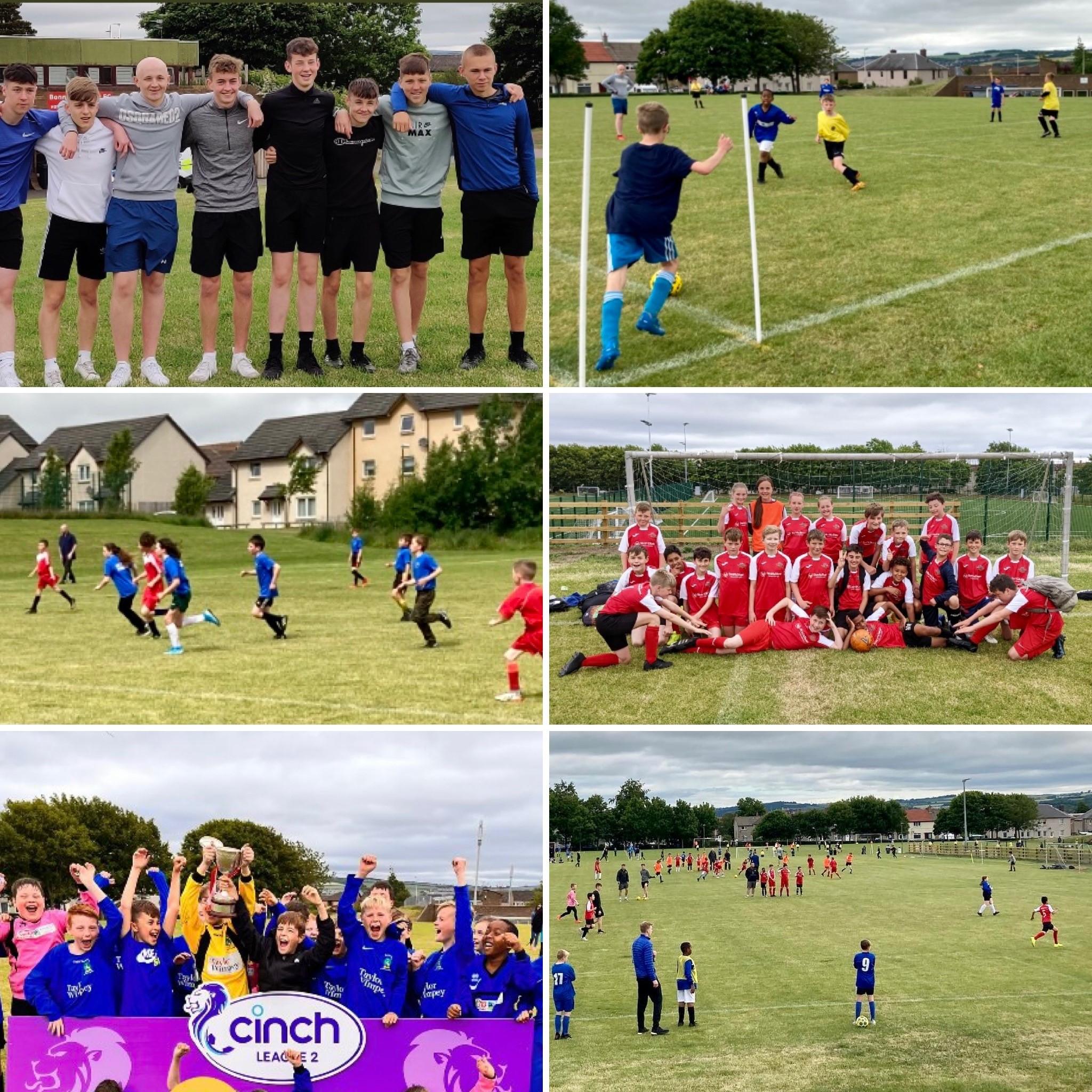 OVERVIEW/PURPOSE:
Active Schools have recently partnered with Bonnyrigg Rose FC. The introduction of a new Bonnyrigg Rose football development officer provided a great opportunity for Active Schools to work with the local football club to create more opportunities for football in the Lasswade and surrounding area.
The main project we have worked on together was piloting an inter-school football festival with free, extra-curricular training sessions set up in the primary schools taking part. Both Active Schools & Bonnyrigg Rose FC recognised pupils have missed out on a lot of opportunities to come together, not just with other schools but with those in other year groups within their own school, due to Covid. We wanted to provide a fun opportunity for local young people to get back together, get active and to meet some of the people they will be starting high school with.
During the final school term (May-June), Active Schools have worked with 6 schools to establish a school football team.
This involved recruiting staff and parent volunteers to train and coach the teams during extra-curricular sessions.
The Bonnyrigg Rose Football development officer& Active Schools Coordinators attended sessions to ensure volunteer staff and parents felt confident delivering and offering them guidance and lesson plans where needed.
INTER-SCHOOL TEAM FOOTBALL FESTIVAL
The term finished with a friendly Active Schools inter-school football festival on Tuesday 21st
Bonnyrigg Rose FC hosted this event at their Poltonhall grass pitches, setting up six 7-aside pitches to accommodate all the teams who signed up.
Six schools, with 15 teams, attended the event with staff members, parent volunteers and spectators cheering them on.
It was great to see 150 pupils playing football for their school in this fun tournament!
Although a score was kept, the focus was on participation, giving pupils a chance to play with other schools in friendly 7-aside matches.
SUPPORT
The event was also supported by Lasswade High School as many of the P7 pupils will be transitioning up to the secondary school after the summer break.
Mr Morrice and Mrs Haynes who lead on the school of football brought 8 senior pupils from Lasswade High School's School of Football programme (Refereeing L7 or Excellence in Sport L6) who refereed and scored all the matches. A special thank you to these pupils who were a massive help and credit to the high school!
Bonnyrigg Rose FC also provided a healthy snack bar for pupils to access throughout the festival.
IMPACT
The opportunity to take part in this event saw 7 free football clubs run, allowing over 150 pupils to participate in extra-curricular football.
These clubs were led by 16 staff members and parents who kindly gave up their time to support pupils in their preparation for this festival.
On behalf of Active Schools and the pupils who took part in these sessions, we would like to thank these volunteers!
Great collaboration from Bonnyrigg Rose FC, Active Schools, local primary schools, parents and Lasswade high school staff & pupils which led to a fantastic morning of football that was enjoyed by all involved.